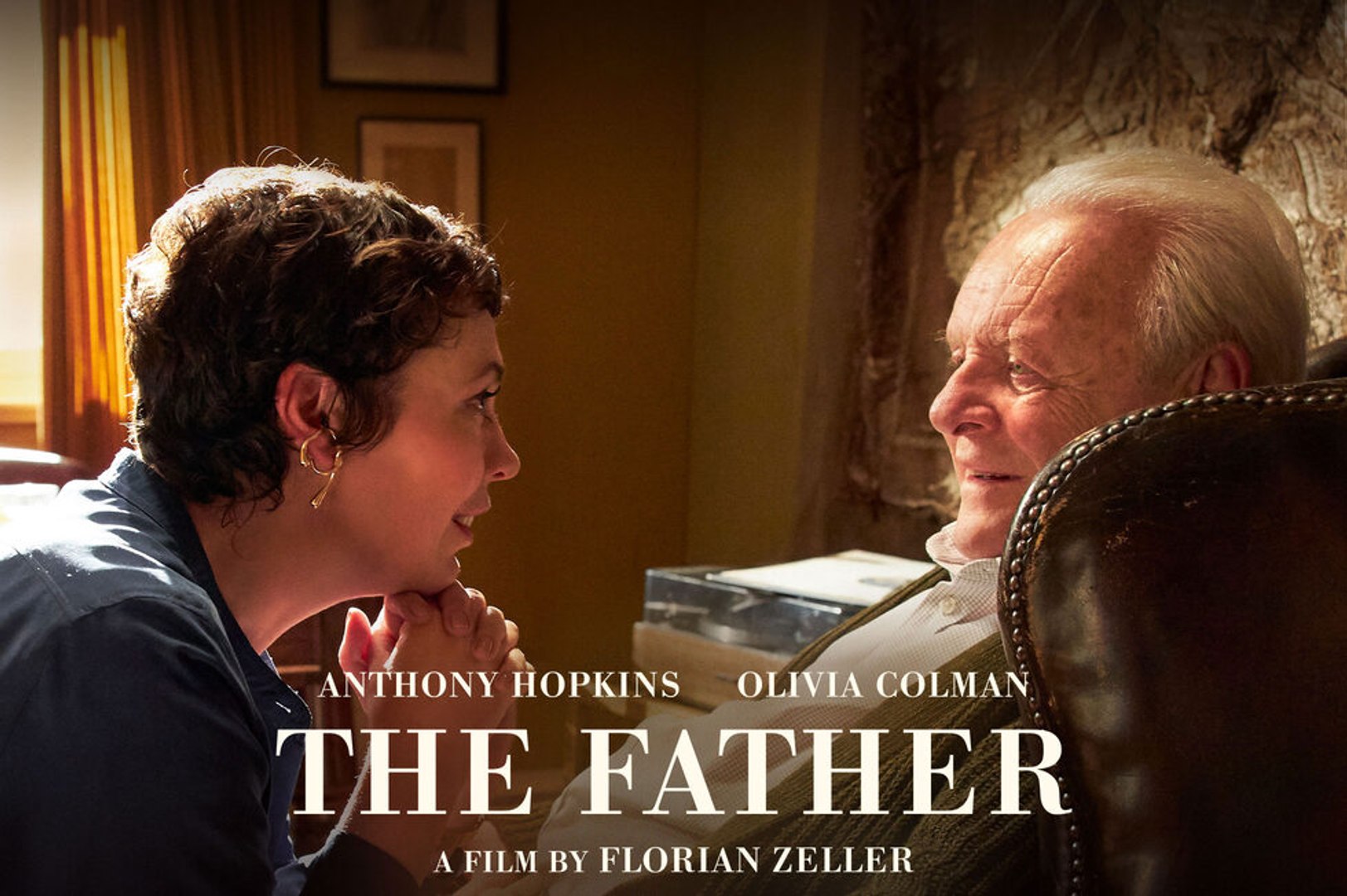 "I feel as if I'm losing all my leaves. The branches, and the wind, and the rain. I don't know what's happening anymore."
(Warning – spoilers aplenty ahead).
I just saw the 2020, Anthony Hopkins-starring film, "The Father," which is a film adaptation of a play by Florian Zeller. The above, shattering quote was uttered by the protagonist of "The Father," an 84 year old widower and retired engineer and London resident, Antony, as he collapses in the arms of a nurse in the final scene of the film, and in this scene – he reveals how truly desperately removed from reality he had become. In a moment of painful insight that at times doesn't always seem to be possessed by dementia sufferers – he cries and sobs the above quote while she calmly tries to soothe him by promising him prosaic comforts, such as placid walks in the park, a nice lunch, and a nap to fill his day.
I've seen several movies that depict dementia. Many of these depictions are offered in a factual and straightforward narrative style – like the 2014, excellent film starring Julianne Moore, "Still Alice," or the brilliant and heartrending biopic of Iris Murdoch, "Iris," starring Dame Judy Dench.
While many of these movies and others are excellent in many ways, as someone who is both a cinephile and who has worked extensively with dementia patients for almost 20 years – I just discovered after watching "The Father" the ingredient that I have been missing in all of these films I had seen before. It's the thing that quality therapists and psychologists always try to look for when they were working with clientele – the ability to really peer into the heads of the people they are trying to help – what I've heard referred to as empathic understanding.
I like this definition from the massively influential founder of the Humanistic School, Carl Rogers:
"[Empathy is] an accurate, empathic understanding of the client's world as seen from the inside. To sense the client's private world as if it were your own, but without losing the 'as if' quality–this is empathy."
Obviously, part of this whole accurate empathy business comes down to just plain inborn skill. Some of us are naturally better empaths than others (while others, I don't know, are better suited for being physicists or mathematicians). But at the same time, it's never just a walk in the park trying to communicate our empathy to our clients – as all of us professional therapists know, our clients are surprisingly good at calling bullshit on us when we're no good at it.
Even under conditions of cognitively normal clients the ability to accurately empathize with our clients can be extremely difficult – for example, I'm a white male with a fairly upper middle-class upbringing: how easy will it be for me to, say, accurately empathize with the trials and tribulations of say, a low SES, minority, female, LGBTQ client? Not very (not, at least, without great respect, compassion, and earnest curiosity amongst other things). But the business of dementia, particularly more advanced dementia, like is portrayed in "The Father" takes the difficulty of trying to 'crawl into the head' of one's clientele and understand their experience, well, to a completely different level.
The movie only takes place across a small handful of sets (it was originally adapted from a stage play, after all), the pacing and continuity of the movie is confusing, but honestly, it couldn't have been any other way. I haven't consumed movies about dementia or aging exhaustively, I can't remember any movie that attempted to portray the experience of dementia from the first person like this one does – although the neo-noir 2000 Chris Nolan gem, Memento, does try to take a stab at this in portraying a protagonist with anterograde amnesia, albeit in a grim, highly stylized and cinematic way.
This first-person take makes the world of Antony confusing, stressful, and unmoored – early on in the movie you get to see demonstrated first-hand one of the long-observed bits of clinical lore from my world, what is likely often labelled "paranoia."
Antony has a beloved watch that features heavily throughout the movie, but one that he frequently has trouble finding. Throughout the movie he suspects and/or downright accuses at least two caregivers, and his daughter, Anne's husband of stealing his watch – when in fact, of course, he simply just keeps losing it.
(As an aside, I always explain this to family or caregivers thusly – when we are cognitively intact and we lose things (as I frequently do), we are intact enough to essentially remember that we forgot).
This is not a luxury that Antony has. His sense of time, and the identities of the people around him also are unstable. There is one scene in the movie where his daughter returns to 'his' flat (which turns out might never have been his flat at all?) with some dinner, and there is a comparatively brief moment – which felt like an eternity – where Antony honestly didn't recognize his daughter as she came through the door. The brilliance of the movie is that we weren't quite sure that it was his daughter either – somehow, she looked different, and Antony's brief terror and uncertainty was also our own.
The movie has moments like this throughout, where we share in Antony's convoluted and confused perceptions and attempts (at times, very unsuccessfully) to make sense of his world, and all of the anxiety and worry that he suffered through as a result. We also get to see the effects it has on the people around him, like the caregivers who his long-suffering and devoted daughter, Anne, tries to pair him up with in a desperate attempt to keep him living in a semblance of normality outside of an institution.
Anne and Antony aren't completely one-sided or fully-sympathetic characters in this movie, either. Antony himself can be manipulative and spiteful – and at one point in the movie. Anne entertains some particularly dark fantasies about her father that simply demonstrate how far she has been pushed (and I know that plenty of dementia caregivers, in their darkest moments, have entertained fantasies like these).
Anthony Hopkins delivers what can only be described as a performance of a lifetime in this movie, with a heart-rending emotional payoff at the end. I've literally spent this entire weekend replaying the final scene in my head, haunted by it. If you really want to understand dementia and the caregiving relationship in a way that other movies that have attempted this subject have not been able to do, I highly recommend you watch The Father.